Contact
If you have any questions about our pieces please reach out to us and we can discuss your needs.
Contact
Sustanability
We take pride in using eco-friendly materials for our packaging to minimize our environmental footprint. Our packaging is not only recyclable but also thoughtfully designed to be reusable whenever possible.
Learn more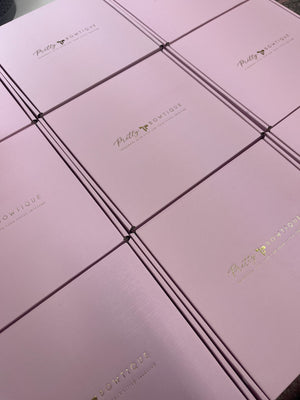 Delivery
We have taken every care to make sure your order arrives to you exactly as it left our studio.
Samantha's bows are simply stunning. They don't just look beautiful...they are practical, sturdy and hold hair my little ladies' hair in place perfectly and comfortably. I couldn't recommend her pieces highly enough!
Marie Kelly
can't recommend these beautiful headpieces and bow's enough. The luxurious fabric's and workmanship are evident to see. I can't wait for my Daughter to wear her head band on her communion day. I will be also borrowing it for special occasions. Delivery and customer service were excellent
Wendy Browne
I recently bought a headband with bow for little girls first birthday. I couldn't believe the softness and the quality of the headband. It was so perfect and so soft my little girl left it on all day long. She hates hats etc so I had my doubts that she might not even leave it on for 5 mins but as I say it was so beautifully soft and delicate that she never touched it. It was perfect. Will definitely be purchasing from this site again. Wonder products
Laura Curtin