Our Story
 Hi i am owner, designer and maker Samantha behind Pretty Bowtique, i am a proud mother of three, and in 2017, I found myself on the cusp of a remarkable journey. That year was filled with dreams and aspirations, and I decided it was time to turn my passion for art and design into something tangible, something magical. Little did I know that this journey would lead to the creation of a thriving handmade children's hair accessories business, one that would touch the hearts of families far and wide.
My inspiration was born right within the walls of my own home. I have two adorable daughters, Abigail and Aoibhinn, who were the absolute stars of my life. . But it was in those simple, cherished moments spent with them that my dream began to take shape. We would gather around a table scattered with ribbons, beads, and a treasure trove of art supplies. Those moments, where we created tiny, whimsical hair accessories together, filled me with immense joy and set the foundation for my dream.
As Abigail and Aoibhinn proudly wore the adorable hair accessories I had lovingly crafted, friends and family began to take notice. Their compliments and growing interest in my creations lit a spark in me. Encouraged by their support, I decided to turn my beloved hobby into a business. I was determined to share my artistry with the world, and what better way than by adorning little girls with handcrafted hair accessories as unique and special as they were?
With my heart brimming with determination and creativity, I embarked on the journey of establishing my children's hair accessories business. Countless hours were spent researching, designing, and perfecting my craft. From vibrant bows to delicate headbands, every piece bore the signature touch of my creativity and my deep love for art. I meticulously selected the finest materials, ensuring that each accessory was not only beautiful but also comfortable for children to wear.
And so, "Pretty Bowtique " was born.  I launched my online store, where customers from all corners of the world could step into the enchanting world of Pretty Bowtique.
As the years passed, my dedication bore fruit. Pretty Bowtique grew steadily, thanks to the support of loyal customers who cherished the beauty and craftsmanship of my creations. My products were not just hair accessories; they were expressions of love, care, and the magical world of childhood. Pretty Bowtique allowed me to balance my role as a devoted mother and an entrepreneurial artisan.
Today, my dream has blossomed into a flourishing business that spreads joy to families all around the world. Pretty Bowtique remains a testament to the power of love, art, and the boundless possibilities that come from following one's heart. I, Samantha, the mom of three with a heart full of love and creativity, continue to create beautiful hair accessories that capture the essence of childhood. It's a reminder to all of us that dreams can truly come true when they're nurtured with love and unwavering determination.
Samantha xx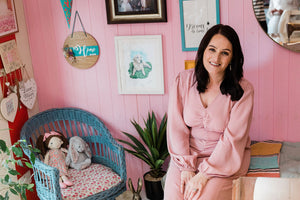 My home is where my creative journey was born, and it continues to flourish and grow with each passing day